Mic Module
KY 038 KY-038 4pin Mini Voice Sound Detection Sensor Mic Module for Arduino In Pakistan
KY038 LM393 Sound Detection Sensor Module for Arduino detects whether the sound has exceeded a threshold value. The sound is detected via microphone and fed into a KY 038 LM393 op-amp. The sound level setpoint is adjusted via an onboard potentiometer. When the sound level exceeds the setpoint, an LED on the module is illuminated and the output is sent low.
Specification of KY-038 LM393 High Sensitivity Microphone Sensor Detection Red Mic Module for Arduino:
Model: KY-038
Product Name: LM393 Mini Voice Sound Detection Sensor Mic Module
Operating Voltage:3.3-5V DC
With analog output
There are threshold level output flip
High sensitive microphones and high sensitivity.
A power indicator light
The comparator output is light
Dimensions: 36.5 x 17 x 10 (LxWxH)mm.
Weight: 4 gm.
For sound detection module has two outputs:
1. AO, analog output, real-time output voltage signal of the microphone
2. DO, when the sound intensity reaches a certain threshold, the output high and low signal
Note: This sensor only recognizes the availability of sound cannot identify the size of the sound or the specific frequencies of sound.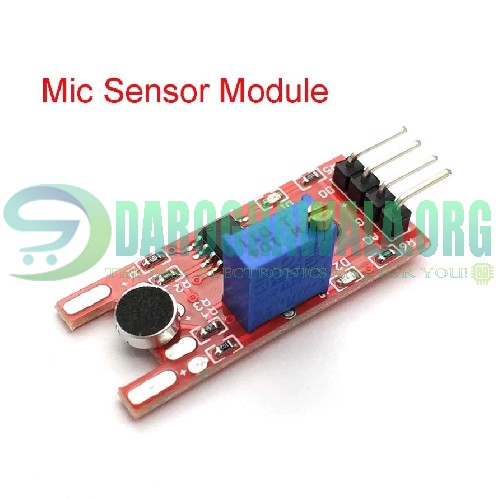 Package Include:
1 x KY-038 LM393 4pin Mini Voice Sound Detection Sensor Mic Module for Arduino In Pakistan