Temperature & Humidity Controller
XM-18D AC 220V Full Automatic Egg Incubator Controller xm18d Thermostat In Pakistan
(Advance Payment Only)
(Delivery Via Cargo Service)
The XM-18D XM 18D XM18D Automatic multi-function incubator researched and produced by our company uses the more popular microcomputer-based technology (using the latest micro-electronics technology and new components), equipped with the imported digital temperature sensor and France moisture-sensitive capacitance humidity sensor, which makes this instrument miniaturization, intelligent, high measurement accuracy. This incubator is stable and reliable, time-saving, labor-saving, and easy to use. It is the ideal incubation equipment for the propagation of poultry and rare birds and small and medium-sized hatchery.
Features: 
Digital displaying of temperature, humidity, and turning frequency.
It applies the microcomputer chips to have strong anti-interference and high stable performance;
The temperature sensor applies the high precision sensor to have high-temperature collection precision and wide temperature range;
It applies a high-performance humidity sensor to high precision to effectively ensure stableness and reliability.
It has the design of user-friendly four screens for display including two screens displaying the temperature and humidity of the incubator and the other two screens displaying the egg turning times and incubation days by pressing the keys and displaying the preset temperature and humidity by pressing the keys.
And six kinds of incubation modes for user-definition, chicken, duck, goose, and so on.
Main Technical Index:
Model: XM-18D
Temperature Measuring Range: 0-99℃

Temperature Measurement Accuracy: ±0.1℃

Humidity Measurement Range: 0—99%RH
Humidity Accuracy: ±3%RH
Number of signal-output: 7, (over-temperature, temperature control, insufficient temperature, egg left-turning, egg right-turning, humidity control, alarm)
The maximum output load current: temperature control, insufficient temperature ≤ 8A/AC220V, over-temperature, egg left-turning, egg right-turning, humidity control, alarm ≤ 1A / AC22
A number of egg-turning: the maximum record is 999 times.
the cycle of egg-turning: adjustment of 0 – 999 minutes (the factory default is 90 minutes)
egg-turning time: adjustment from 0 to 999 seconds (the factory default is 180 seconds)
ventilation cycle: from 0 to 999 minutes
(the factory default is 120 minutes)
ventilation time: from 0 to 999 seconds (the factory default is 30 seconds)
Temperature measurement length: About 2 meters
Working Condition:
Working Voltage: AC 160V – 240V,50HZ
Relative Humidity: less than 85% RH
Environment Temperature: -10℃ – 60℃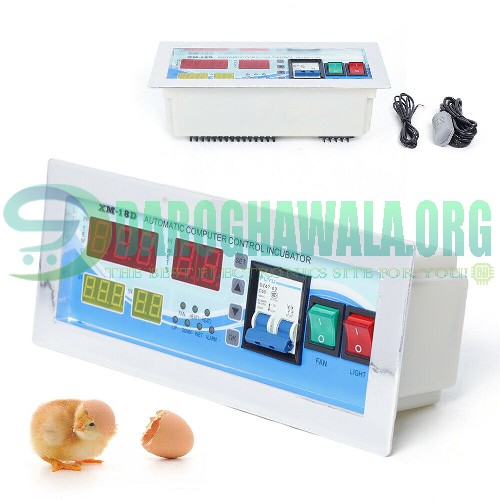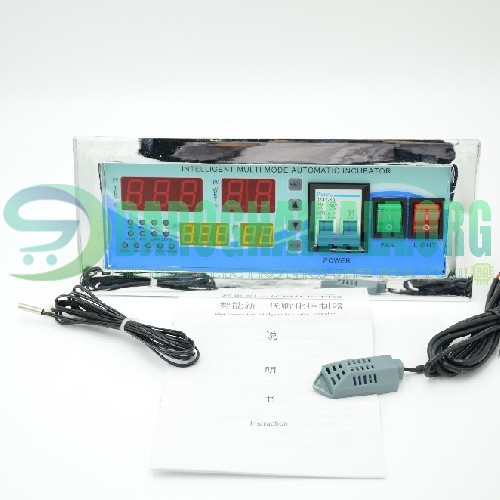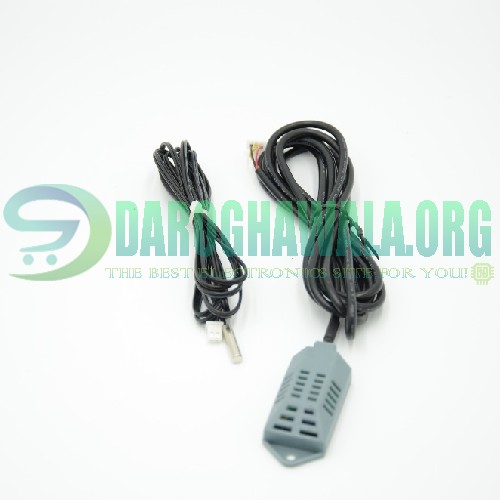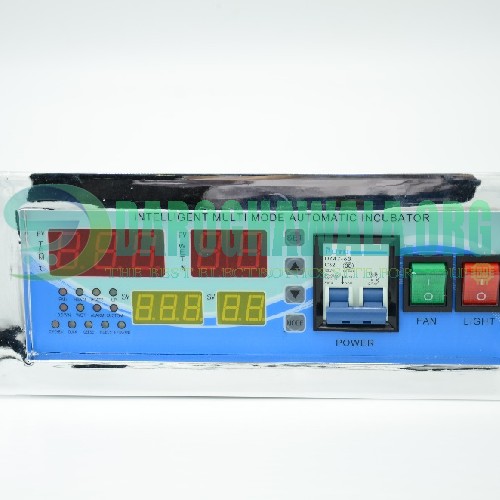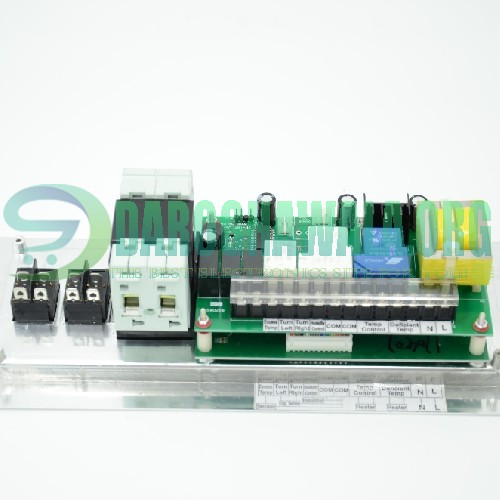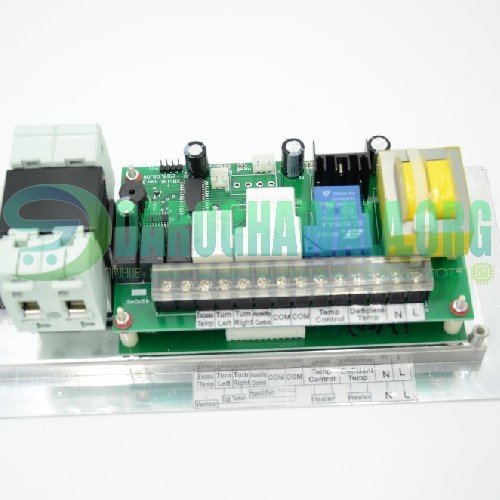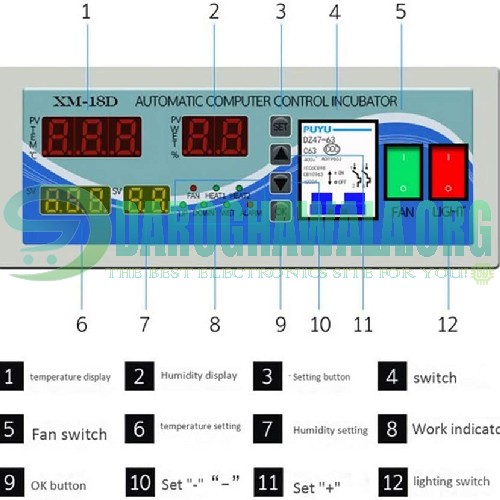 DAROGHAWALA.ORG Best Online Shopping website for XM-18D AC 220V Full Automatic Egg Incubator Controller Thermostat In Pakistan. Here you get an XM-18D AC 220V Full Automatic Egg Incubator Controller Thermostat at a reasonable price in Karachi, Lahore, Islamabad, Rawalpindi, Peshawar, Multan, Faisalabad, and all over Pakistan.COD Available
Package includes:
1 x XM-18D AC 220V Full Automatic Egg Incubator Controller
1 x Temperature sensor & Humidity sensor & User Manual