Heating Elements
Infrared Ceramic Bulb Heat Emitter 50W For Egg Incubator Reptile Pets In Pakistan
The ceramic heating soaks is one kind of infrared source. 50w Heat Bulb has one kind of similar natural sunlight heat radiation. The radiator produces the long wave infrared heat radiation that can effectively the warm reptile animal. Has promoted in the rearing tray temperature. Infrared heat may penetrate the skin organization, expands the blood vessel, promote blood circulation, enhance health, and accelerates to be restored to health.
Specifications Of 50w Mini ceramic heating element for egg incubator:
Power:50W
Voltage: 220V-240V
Material: Ceramic
Color: Black
Purpose: turtles, snakes, lizards, spiders, and other pet hedgehog heat insulation.
Features Of Ceramic Emitter Heater Lamp Light Bulbs Far IR Heating Brooder:
This infrared bulb produces intense "muscle penetrating" infrared heat only, it creates a more comfortable environment for all types of reptiles, amphibians, birds, hamsters.
This heat bulb has a flat face design, more efficient and durable than conical designs that accumulate excess heat internally, ultimately carbonizing the element.
The reptile ceramic bulb is made of a solid ceramic element, durable material
This ceramic bulb lasts a long time.
Perfect for high humidity terrariums, and a perfect companion for your pets.
This ceramic lamp is widely used to keep birds, reptile cages, chicken coops, and nurseries warm.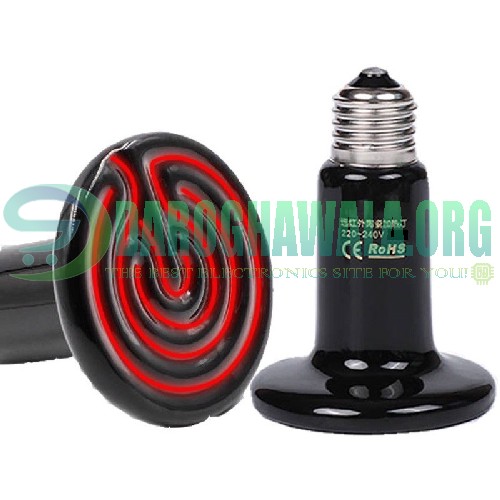 Package Include:
1 x 220v 50w Ceramic Heat Emitter Blub For Eggs Incubator In Pakistan