UNI-T Digital Oscilloscope
Digital Storage Oscilloscope 2 Channel DSO UNI T UTD2052CL in Pakistan
(Advance Payment Only)
(Delivery Via Cargo Service)
An oscilloscope is a laboratory instrument commonly used to display and analyze the waveform of electronic signals. In effect, the device draws a graph of the instantaneous signal voltage as a function of time.UTD2052C Oscilloscope is a two-channel portable device with 7-inch display 50MHz bandwidth and 500MS/s sampling rate. Digital Storage CRO is an ergonomic, lightweight, universal instrument designed for engineers. A sampling Oscilloscope is suitable for field testing and analyzing time-based voltage signals in a mobile environment
An oscilloscope is a laboratory instrument commonly used to display and analyze the waveform of electronic signals. In effect, the device draws a graph of the instantaneous signal voltage as a function of time.UTD2052C Oscilloscope is a two-channel portable device with 7-inch display 50MHz bandwidth and 500MS/s sampling rate. Digital Storage CRO is an ergonomic, lightweight, universal instrument designed for engineers. A sampling Oscilloscope is suitable for field testing and analyzing time-based voltage signals in a mobile environment
Specifications Of 2 Channel Oscilloscope DSO Scopemeter:
Channels: 2
Bandwidth: 50MHZ
Sample Rate: 500MS/s
Rise Time: ≤7ns
Memory Depth: 25 kpts
Waveform Acquisition Rate: ≥2000wfms/s
Vertical Sensitivity: 1mV/div~20V/div
Time-base Range: 10ns/div~50s/div
Storage: Setup, Wave, Bitmap
Trigger Modes: Edge, pulse width, video (UTD2025CL), alternate
Interface: USB OTG,Pass/Fail
Power: 100-240VAC, 40-440Hz
LCD Size: 7 Inches 64K Color TFT LCD, 400×240
Color: White and Grey
Dimension: 306mm ×147mm × 122mm
Features Of UNI-T UTD2052CL Best Sampling Oscilloscope:
The dual analog channels' width range of 1mV/div~20V/div.
7 inches widescreen LCD displays.
Special Print Screen Feature.
Supports plug-and-play USB storage devices. Communication with and remote control of the computer through the USB device.
USB drive system software upgrade.
Storage of waveforms setups and interfaces waveforms and setups reproduction.
Automatic measurement of 28 waveform parameters.
Unique waveform recording and replay function.
Multilingual menu displays.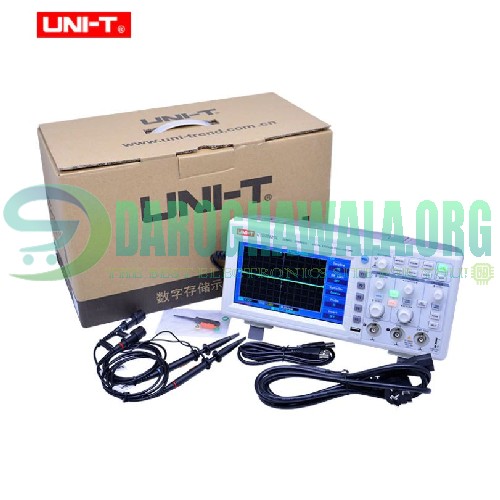 Package Include:
1x Oscilloscope
2x Probe (1×,10× switchable)
1x power cord
1x USB cable